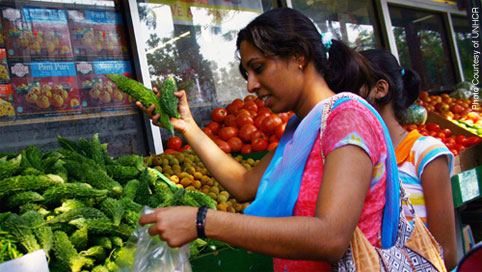 Refugee experiences during conflict, emigration, and resettlement leave them at increased risk for some health and medical conditions. Hunger and nutritional deprivation, water contamination, inadequate living conditions, and a lack of basic medical and dental care have been common experiences of new arrivals. Resettlement brings additional health challenges related to poor housing, lack of familiar and affordable foods, sedentary lifestyles, and the availability of inexpensive junk food.
Some health and medical conditions common in refugee populations include:
Nutrition and Physical Activity
Deficiencies of such vitamins as B12 and D, and minerals such as iron have been found in refugee populations resettled in the U.S. These deficiencies can cause a variety of medical problems such as impeding healthy growth in children and safe pregnancies in women. In America, refugees often resort to the unhealthy eating habits of their fellow Americans without access to affordable, healthy food. Unemployment, unsafe neighborhoods, and the sedentary lives they face in America contribute to unhealthy lifestyles. Like their fellow Americans, many refugees experience an increase in such chronic diseases as obesity, heart disease, and diabetes.
Oral Health
Refugees have a high prevelance of oral health problems due to poor nutrition, mouth injuries related to torture, and lack of access to dental care. Many suffer from gum disease, cavities, and tooth decay. Dental problems can interfere with someone's ability to chew and eat a healthy diet. In children, poor oral health has been connected with poor growth and school performance. Access to dental care in America can be a problem, and programs offering free dental services vary by state.
The domestic health assessment helps providers identify and diagnose many of these conditions. Providers are also encouraged to learn about their patients' cultural practices and belief systems in order to give more effective treatment and care.
Learn more about oral health and refugees.